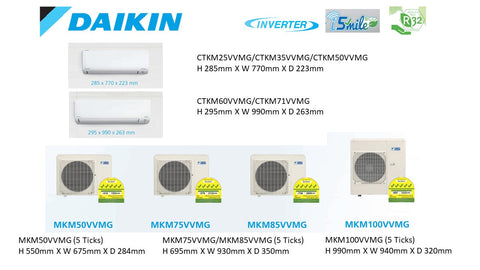 DAIKIN iSmileEco R32 Series System 2 Inverter (5 Ticks): MKM100VVMG / CTKM71VVMG X 2
The Daikin iSmileEco R32 Series System 2 Inverter Aircon: MKM100VVMG / CTKM71VVMG X 2 provides 2 unit/s of close to 24,000 BTU cooling capacity, making this System 2 ideal for two medium-sized or large room or living room.
Daikin iSmileEco Series Multi Split System comes with built-in Daikin Smartphone Control.
Outdoor Unit: MKM100VVMG (990 x 940 x 320)mm
Indoor Unit: CTKM71VVMG (295 X 990 X 263)mm
Function / Type: Cooling Wall Mounted / Inverter
Capacity:
MKM100VVMG: 29,380 BTU/Hr
CTKM71VVMG: 24,200 btu/hr
NEA Rating: 5 Ticks
Price excludes:
- Stainless Steel SS304 Bracket ($180)
- Electrical Isolator ($300)

Click to Download the Catalogue Now!
The stated prices are estimated for standard installations at a BTO/HDB flat. We do understand that the house that you have may not be a BTO/HDB (e.g. Commercial Buildings, Private Homes, etc); however, do not worry, a quotation will be given upon a survey of your home. Depending on the layout and structure of the home, this price may vary. For a more accurate quotation, please contact us for a free, no-obligation survey!
---
We Also Recommend
---